Design responding to
change and challenge
We are seeing major cultural and urban shifts in our cities in the way we live, move, work and relax. The pandemic has had a significant impact on our working environments.
It comes on top of a stream of other disrupters which have been shaping our workplaces and office buildings over the past ten years. Despite sensible space limitations, our workplaces still need spaces which encourage safe interaction and connection, support wellbeing and accommodate a variety of working styles, including and integrating a portion of staff who are working from home (WFH). Work and leisure are now even more flexible and integrated, and future designs for our working environments have to respond.
Today the workplace can be anywhere; it can be purpose built or defined by an individual. Our working patterns are changing at an ever-increasing rate and an increasing emphasis on work-life balance has created the need for, and acceptance of, more flexible working arrangements. One design challenge is the move toward openness and transparency, driven by the desire to connect and communicate with people while maintaining an appropriate level of distancing. We are experiencing a significant increase and acceptance of the use of technology which must be made easily accessible and fully integrated into our workplaces, wherever they are.


Making technology work
With the world changing, the way we interact is rapidly evolving and we are having to rethink the design of workplaces in a post COVID-19 world.
Unsurprisingly, we predict a shift to an increasingly strong technology-based work environment. We have already experienced the significant adoption of video conferencing and digital collaboration. In a relatively short space of time it has become standard to have screens in all meeting and quiet rooms. Staff are using various devices in different locations to communicate and collaborate.
Obviously zero or low touch technology is in high demand and most items will be controlled via our smart phones in the not too distant future. This will be combined with access control and smart booking systems to make sure that the allowed number of occupants in a room will not be exceeded. Visitors will digitally sign-in to access systems when they enter a building. Though this is not new technology, this is rapidly becoming much more common now.
We must also understand and learn how Artificial Intelligence (AI) will affect changes to how we work, and how the interfaces will look in a workplace. An increasing number of workplaces already have security personnel scanning new arrivals. Temperature scanning is likely to be added to this and it might be just a question of time before facial recognition will become more common and accepted. Building and workplace technology can become so complex for larger projects that it is now recommended to add technology specialists to the list of required consultants for commercial buildings.
Other technology considerations for our future workplaces are:
Readiness for the Internet of Things
Impacts on building operation through sensor data and analytics
Enhanced WiFi coverage with greater data capture
Contactless or reduced touch points for access / in meeting spaces / amenities / vertical transport
Sensors for demand-based cleaning and
Digital head counting for safe occupancy levels.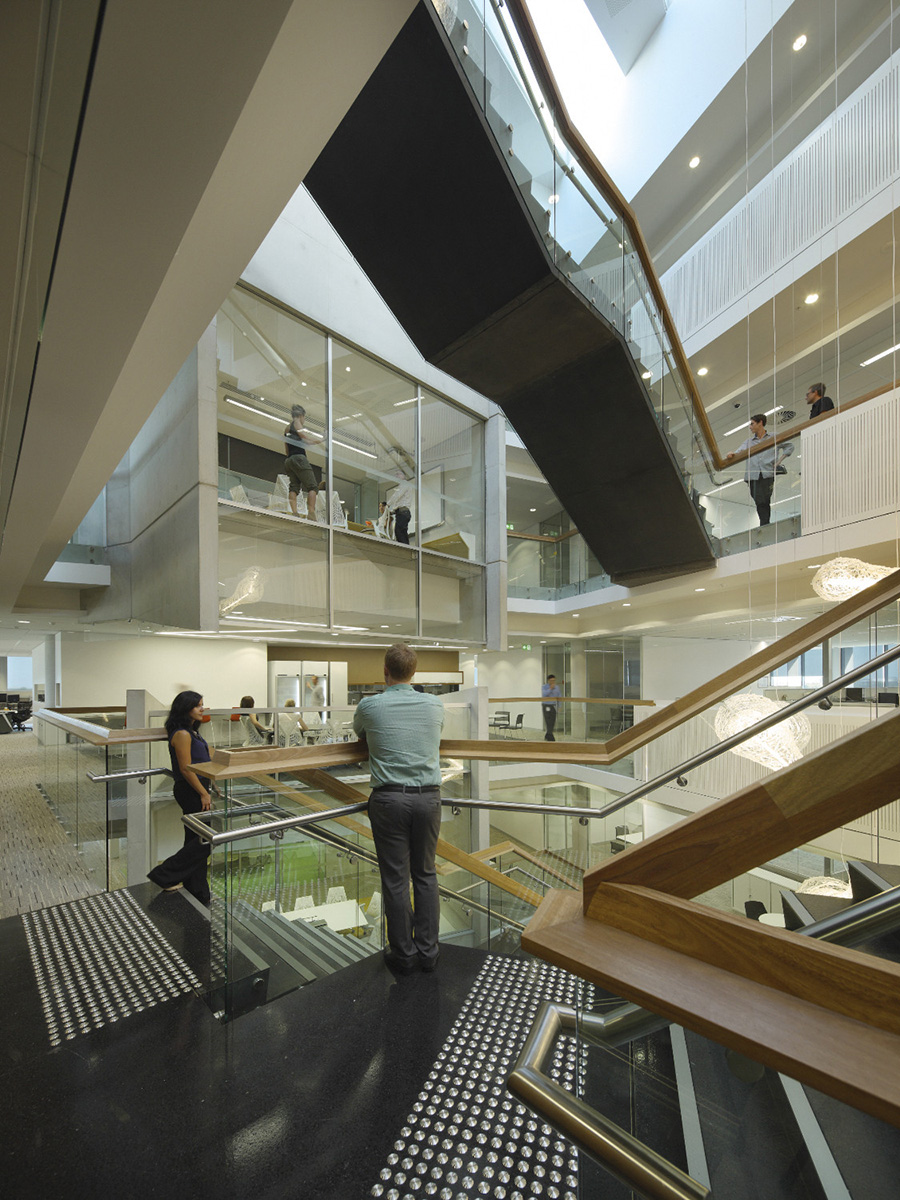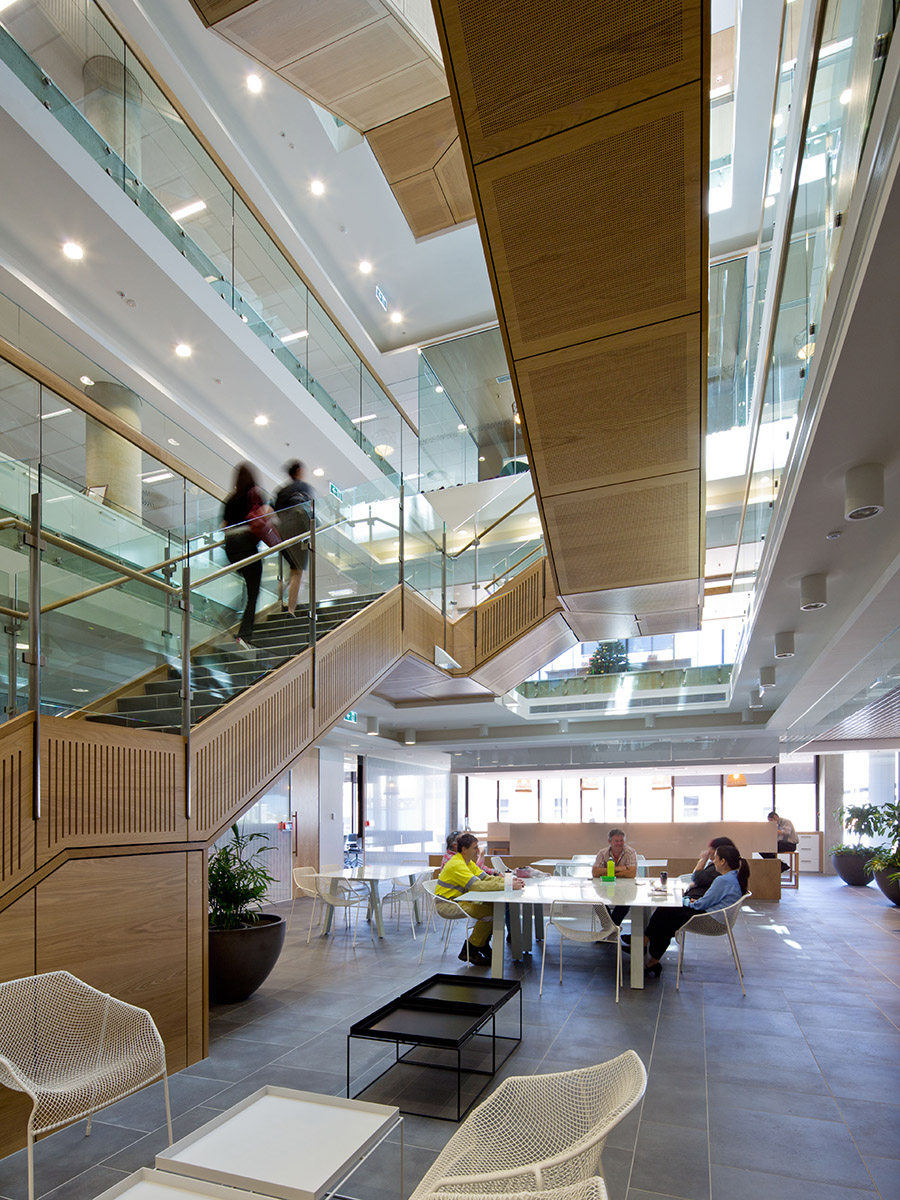 However, we don't pretend to know all the answers because they need to be responsive to a whole range of varying circumstances. Whatever this "new normal" is, or will be, we do know it will not be exactly the same as before and it will vary from client to client, now determined by a new and particular set of parameters. It may mean more floor space or less; it may mean a hub and spoke array of workplaces – from central to satellite to WFH; it may mean organisations taking more responsibility for the quality of the WFH environment; and it may mean design organisations having to rethink and respond to these new needs in more innovative and responsive ways. Now, more than ever before, the focus will be on a safe and healthy work environment.
Arkhefield have an established reputation for designing and delivering commercial buildings and workplace fitouts that are of high quality, make a positive lasting impact and are tailored to the culture and branding of an organisation. This sound background, and our ethos of enriching lives and enacting change by attacking new challenges head-on, equip us well to work with our clients as they evolve their "new normal".
Our broad client base includes AMP Capital, Dexus Property Group, Ergon, Energex, Lancini Group, Property Solutions, QIC, ISPT, Shayher Group, Sentinel Group and Challenger Group.