Social and
Affordable
Housing
BY ARKHEFIELD
30 OCTOBER 2020
Affordable housing shortfalls and the need to improve our current approach to social housing has become an urgent and important agenda for Australians. The widely recognised challenges facing the housing market generally have been brought into sharper focus by the ongoing pandemic. Arkhefield supports the Office of the Queensland Government Architect's recent call for better social housing outcomes for all Queenslanders. Arkhefield are proud to be delivering a demonstration project for the Department of Housing and Public Works (DHPW), DDDW Holland Park. As well as discussing this project, we also outline some of our earlier involvement in this sector.
DDDW
Holland Park
Arkhefield's commended entry "Retrofix" from the Density and Diversity Done Well Design Competition was selected by OQGA and the Department of Housing and Public Works to be developed as a demonstration project. Arkhefield have adapted the original concept to suit a corner site in Holland Park to deliver twelve one bed apartments, accessed off a central landscaped walkway. These homes are designed with accessibility in mind, with all ground level apartments achieving platinum and gold level livable housing standards. The master plan considers future expansion to an adjoining block owned by the DHPW, building-in future flexibility and resilience, in response to changing social and economic needs. This project is "shovel ready" with the tender process now underway.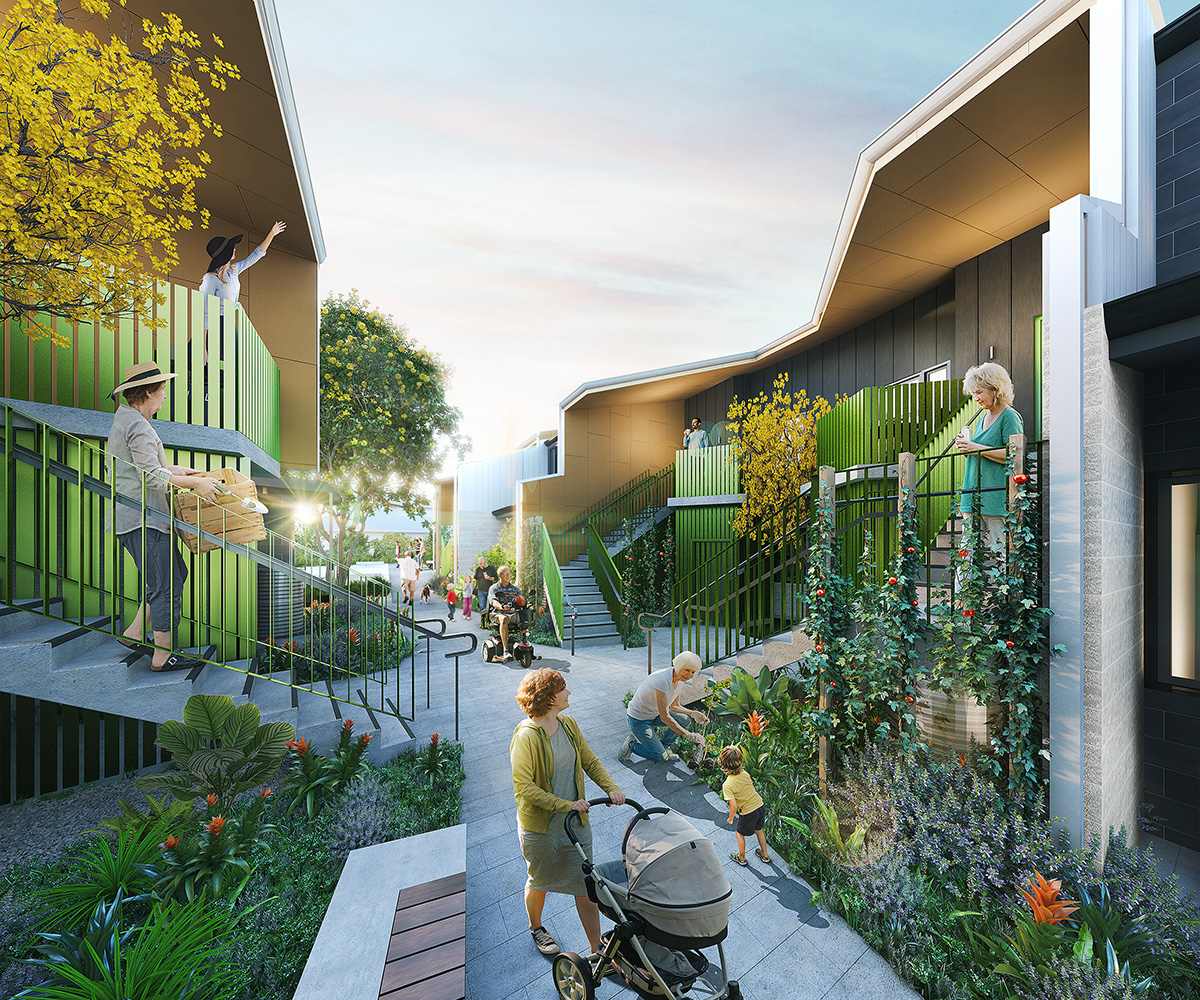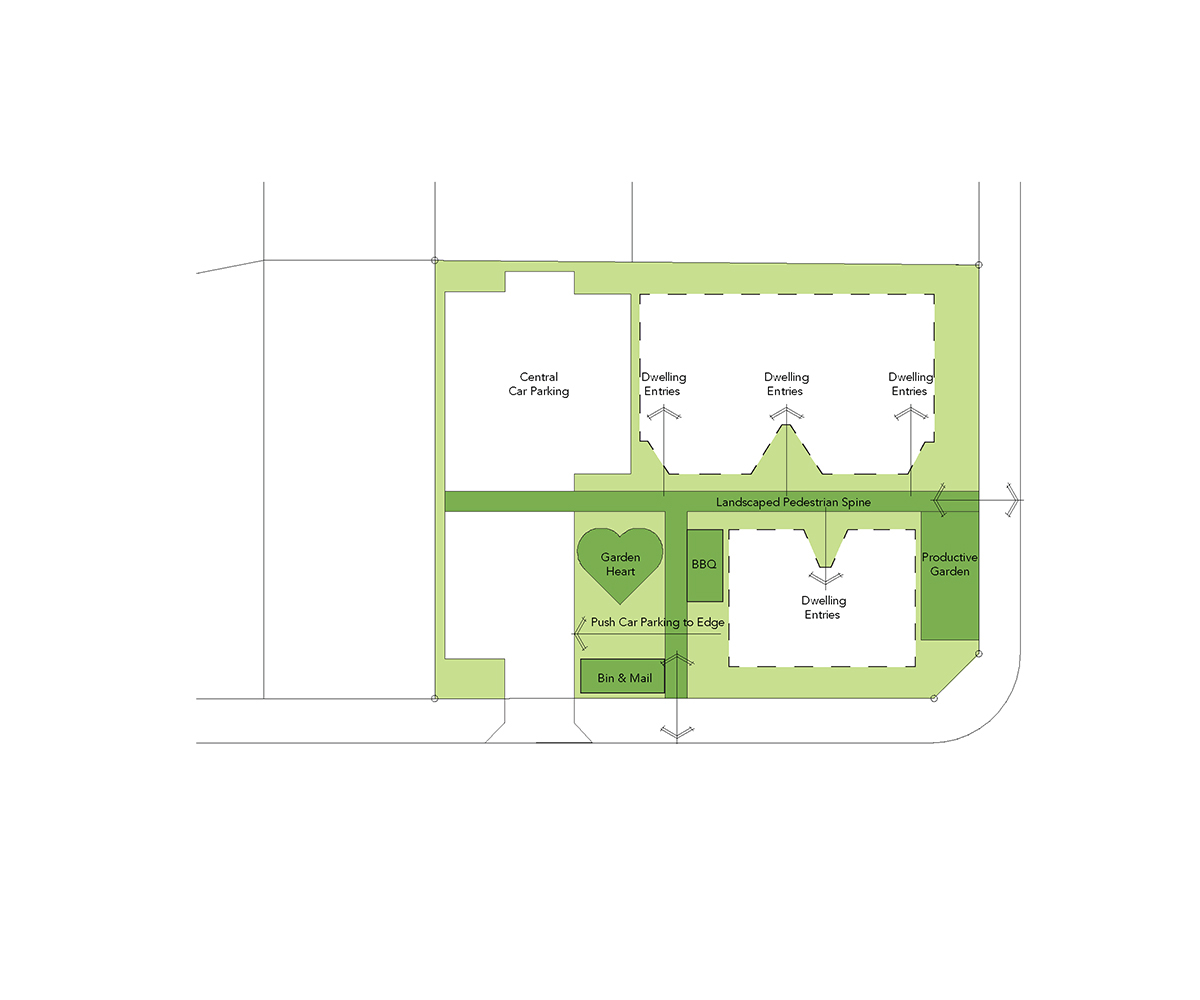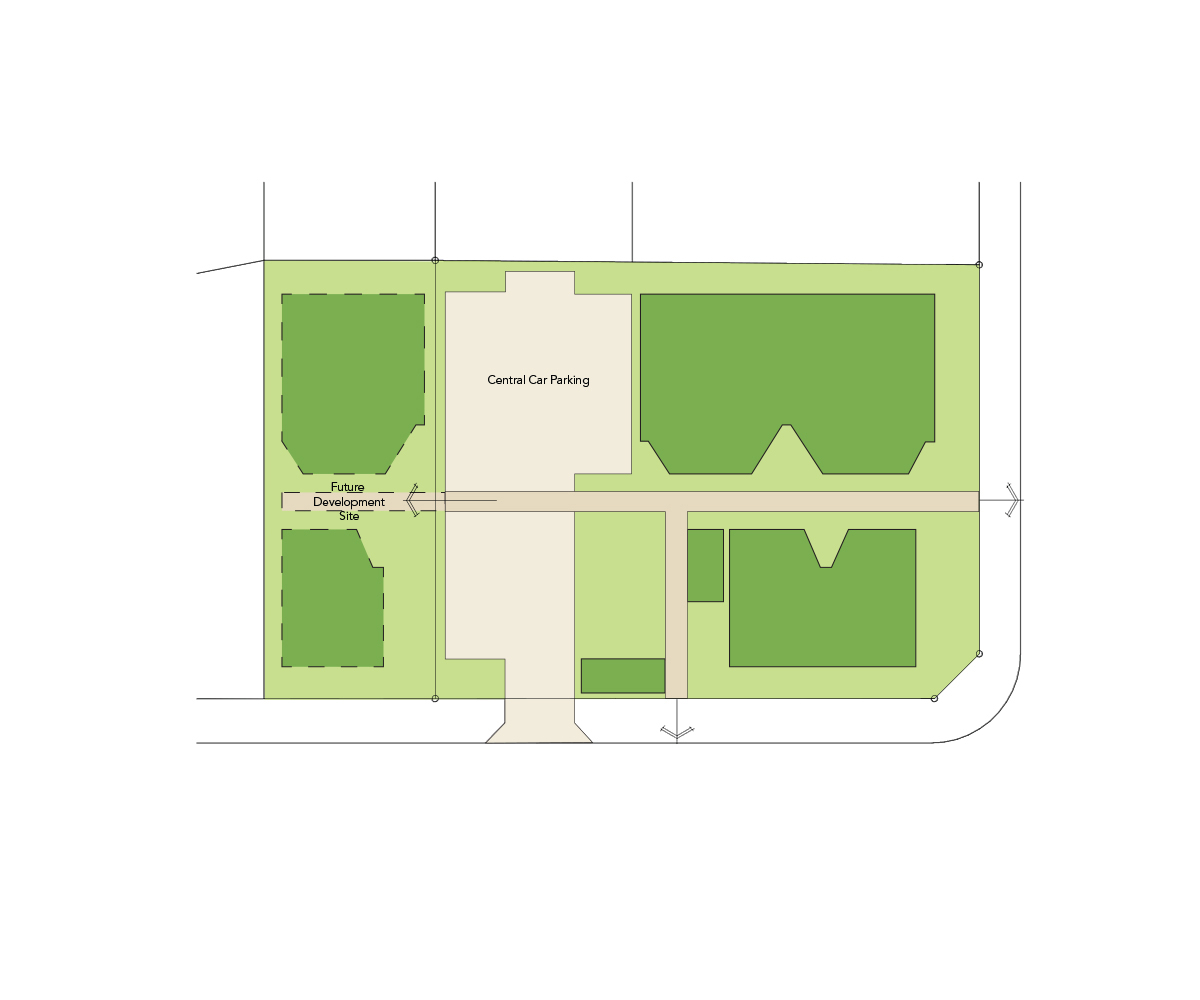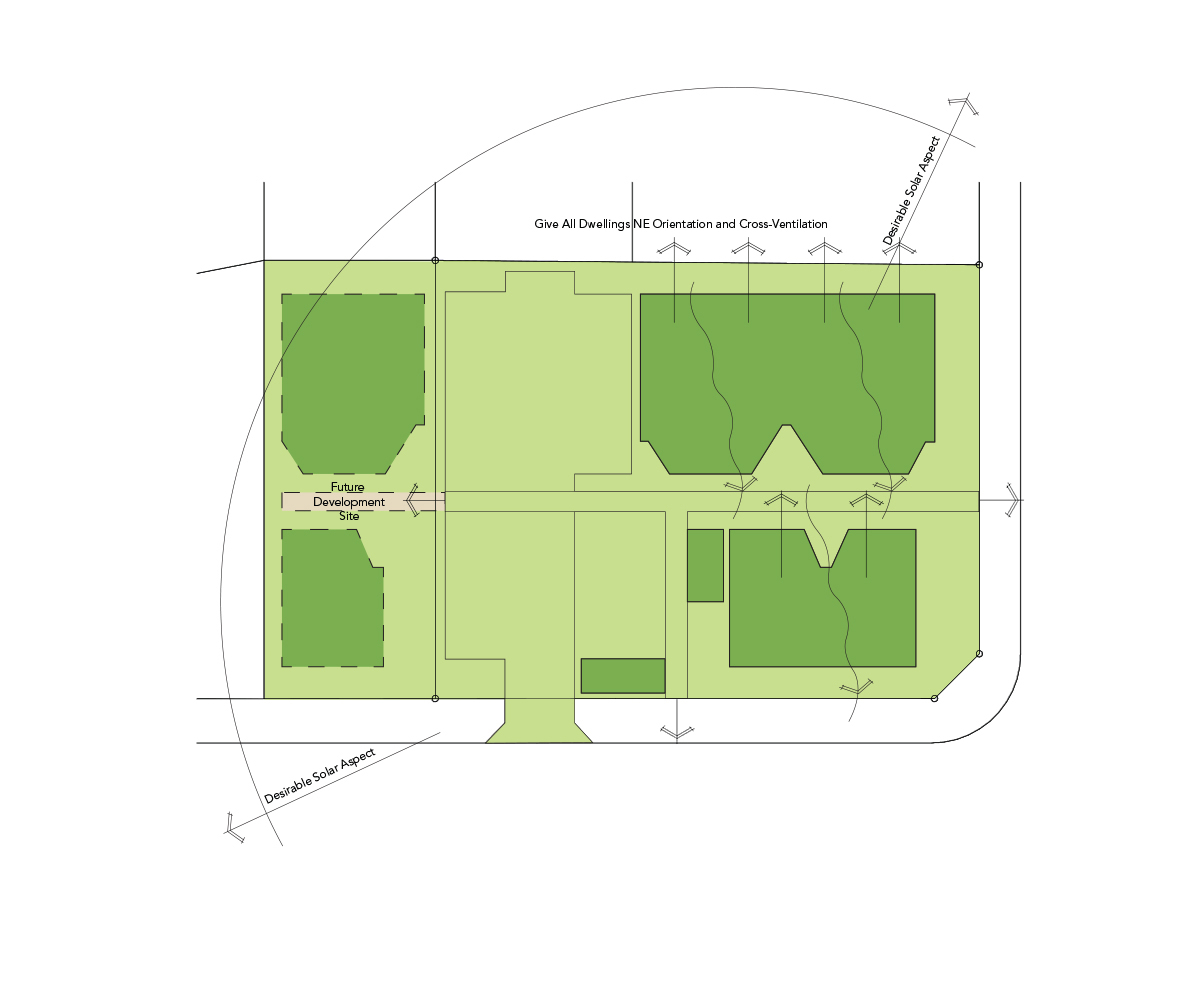 Goodna
Social Housing
The Goodna Social Housing project seeks to provide residents with a level of amenity and livability not often associated with social housing projects. Individual entry courtyards and generous balconies encourage natural ventilation and provide access to sunlight and natural breezes, with the ability for the residents to control their desired level of privacy. Screened secure entry courtyards provide resident storage, a clear entry threshold to each unit and opportunity for cross ventilation from the front door of the units through to generous balconies. All units feature generous, north-east oriented, open plan living spaces - these are contiguous with private outdoor spaces which overlook an existing stand of established eucalyptus trees.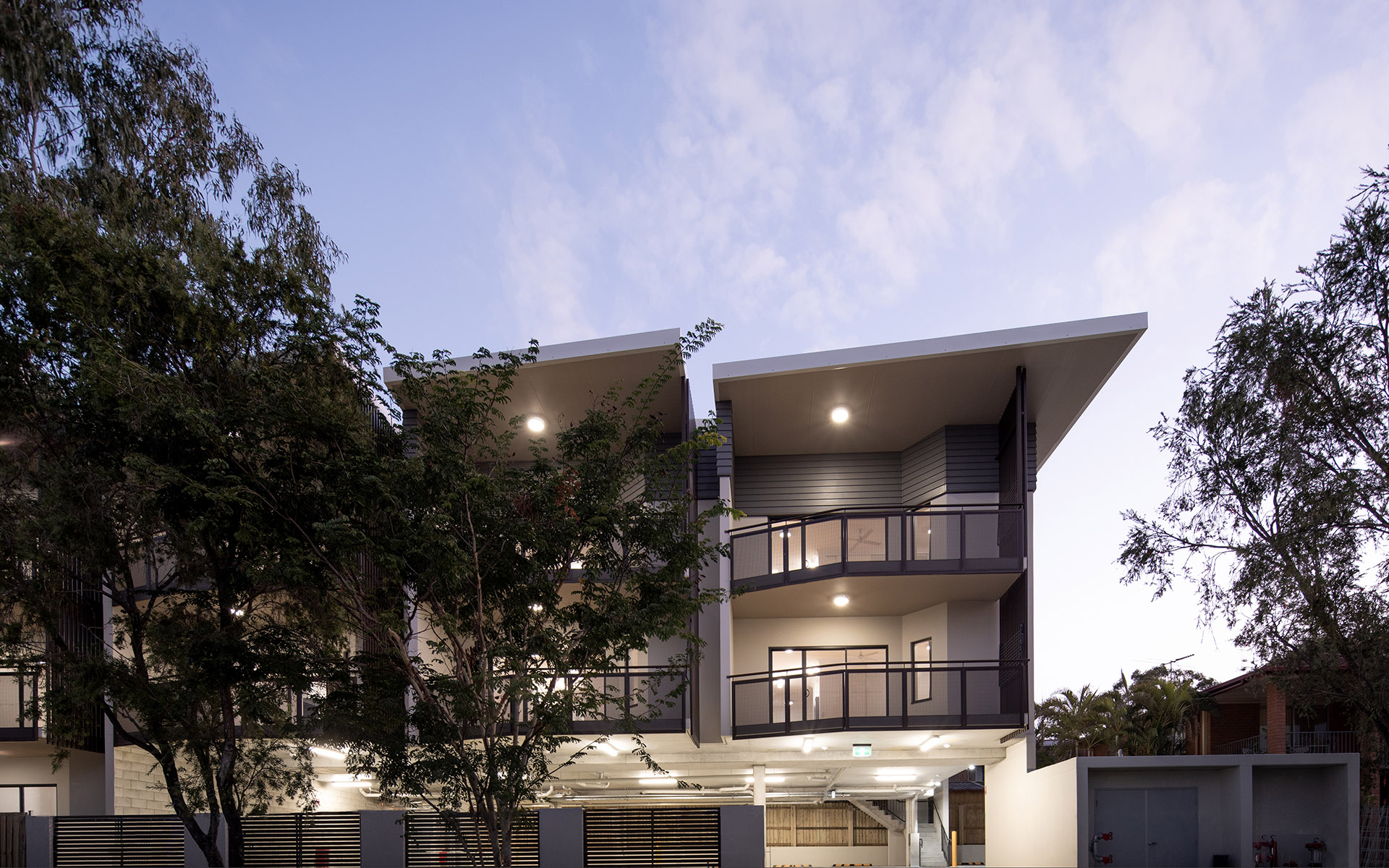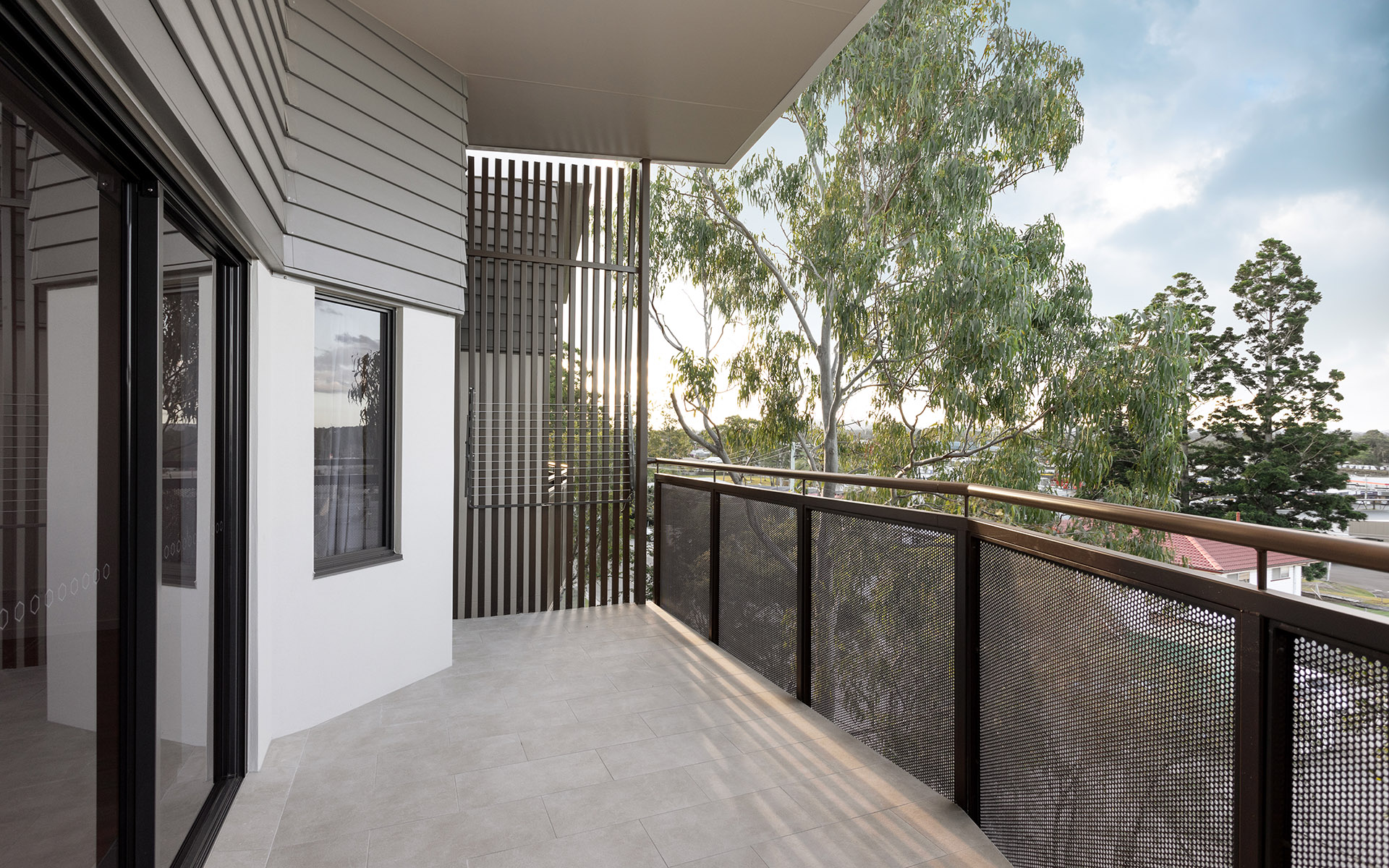 This highly awarded project, developed for Brisbane Housing Company (BHC), was purpose built for the needs of a specific seniors' community, all of whom had been living in public housing that no longer met their needs. The residents volunteered to join a new medium density living community, transitioning into one bed units or studios. A thorough community consultation process informed the brief to deliver quality design in social housing. The project sought to deliver efficient, low-maintenance, low-cost housing that would be responsive to the residents' changing needs over time, providing both security and privacy as well as opportunities for community and social interaction.
To achieve this, we designed two five-story buildings that frame a generously landscaped podium. The podium incorporates social spaces for small groups, a common laundry and amenities as well as gardens. Circulation spaces on the upper levels provide opportunities for incidental social interaction and allow passive surveillance of the common spaces. Mobility scooter charging points were incorporated in common areas encouraging users to stay and interact, and a comfortable community activity room was located at street level. A playful art installation offers an invitation to participate in the weekly programming of community activities.
Passive security, privacy and cross ventilation was designed into each unit. A number of the units were also configured to be able to be joined together, supporting changes in the residents' needs over time.
Awards
UDIA QLD Awards for Excellence 2016 – State Winner for Affordable Housing
AIA Queensland Architecture Awards 2016 – State Award for Residential Architecture (Multiple Housing)
AIA Queensland Architecture Awards 2016 – Regional Commendation for Residential Architecture (Multiple Housing)
AIA Queensland Architecture Awards 2016 – State Commendation for Sustainable Architecture
Illuminating Engineering Society 2016 - Award of Excellence for Lighting Design
A History of Social and
Affordable Housing Projects
With social housing now at front of mind, at Arkhefield we have been looking back at the many social and affordable housing projects we have delivered over the last 15 years for both DHPW and BHC.
One of our earliest social housing projects was Hartopp Lane in Kelvin Grove, a five story, 42 unit development with ground level retail and commercial tenancies and a sub-tropical landscaped courtyard.
In 2010 we completed another mixed-use/ mixed tenure affordable housing development at Blackwood Street in Mitchelton. The project combines ground level retail, one level of commercial office space, one level of affordable rental housing and one level of market for sale units. The units target active independent seniors, while the retail and commercial tenancies complement the existing street fabric. The project was the first of its kind in the area and demonstrates how urban renewal projects can contribute to the social diversity of an area and successfully integrate with the local community.
Awards
UDIA Queensland Award – Urban Renewal
PIA Queensland Merit Award, Housing Category
In 2011 we completed two projects in Fitzgibbon. The first, 'Fitzgibbon Chase', was an affordable townhouse development catering to families and couples. The second was a mid-rise apartment building, 'Fitzgibbon Core'. Comprising 64 units ranging from studios to three-bedroom apartments, this project was recognized by the Australian Institute of Architects for its innovative design that responded to the residents' needs.
Awards
AIA Brisbane Regional Commendation, Multiple Housing