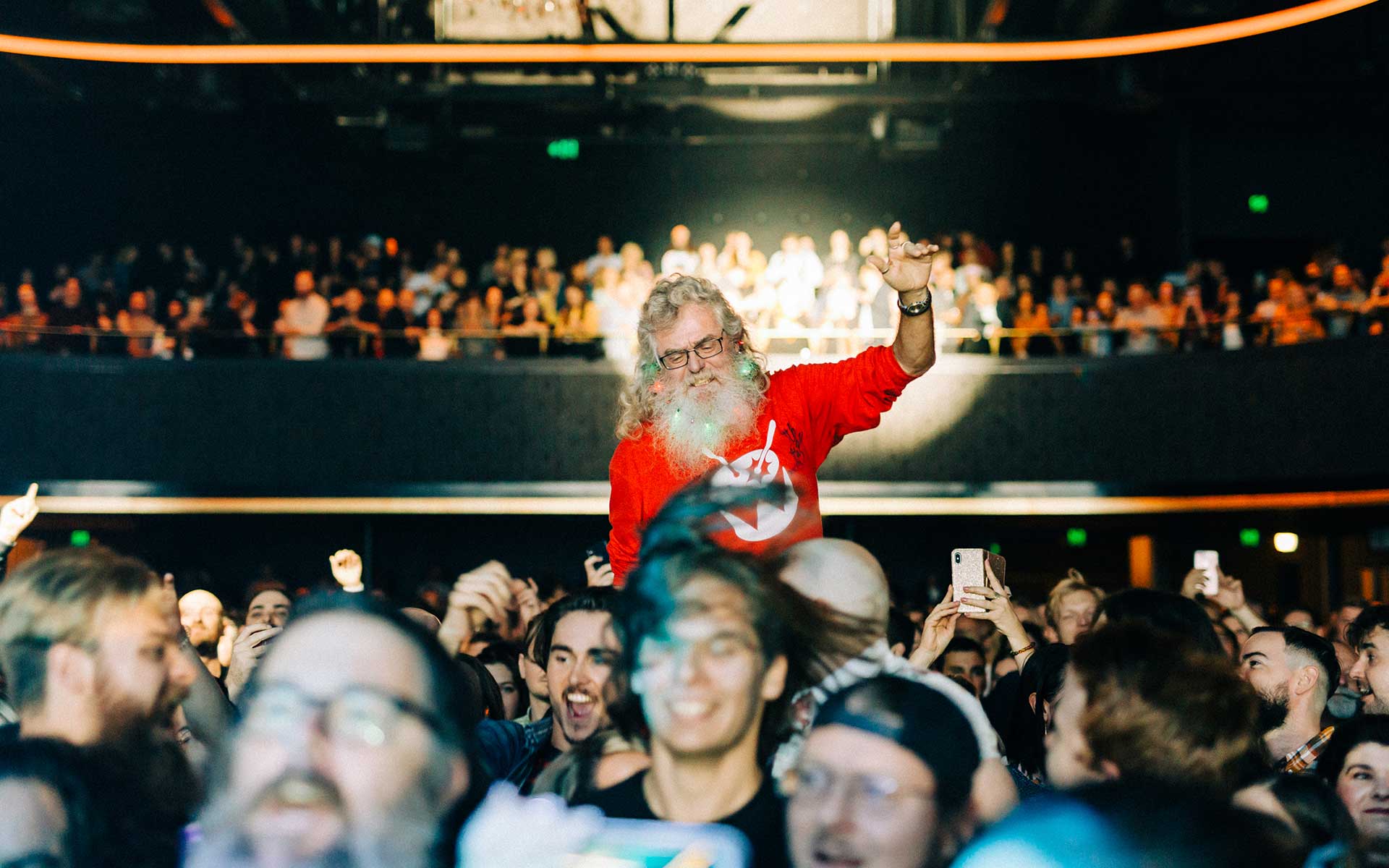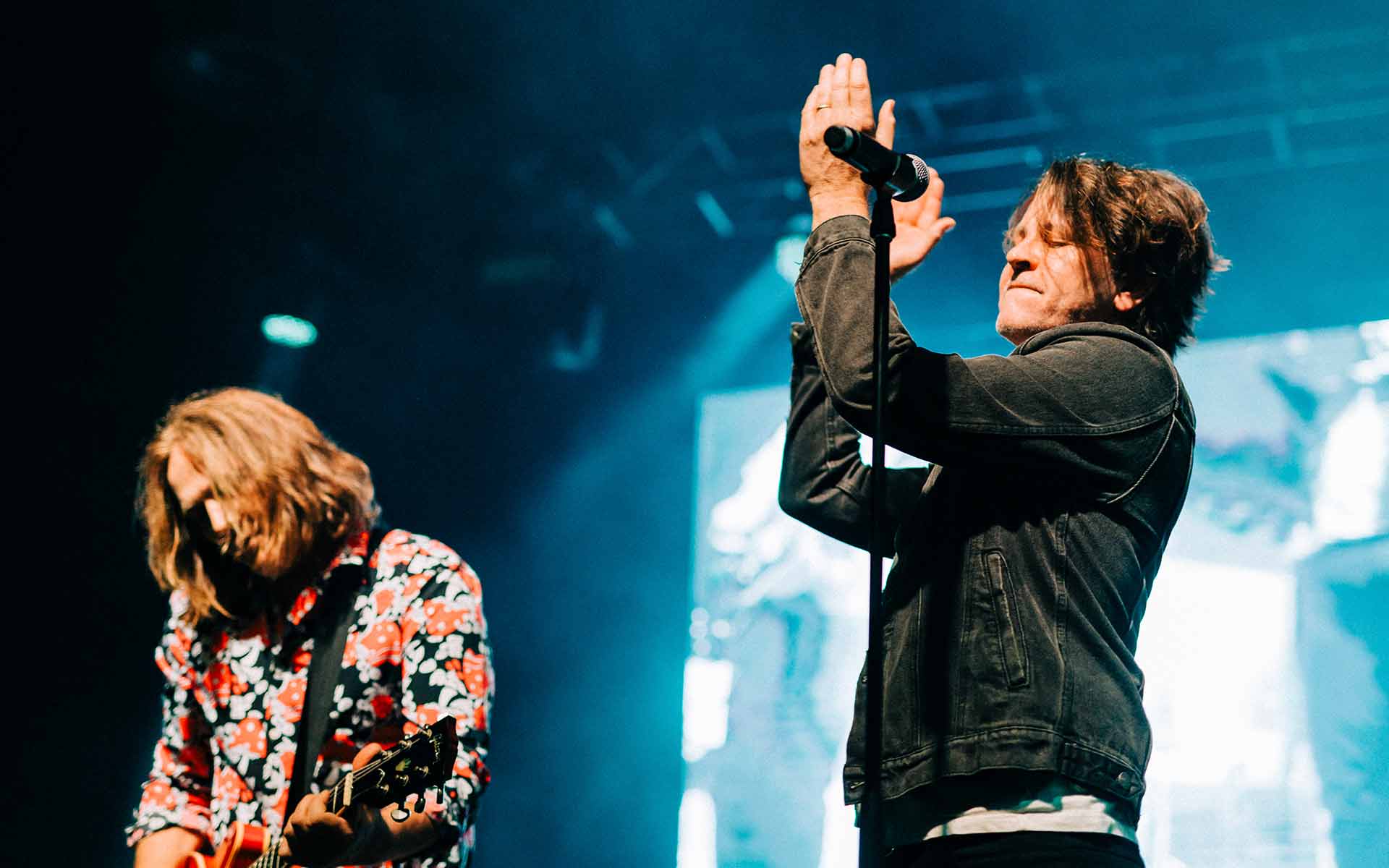 Partnering together - Live Nation, Secret Sounds, John Collins and Scott Hutchinson – recognised Brisbane's music scene had limited access to mid-size venues, meaning bands would have to travel interstate to gain the exposure they needed to launch their careers. The group saw the opportunity to fill the void that Festival Hall left behind by creating a new venue which could house 3500 people.
After researching venues of a similar size worldwide, a site was selected on Brunswick Street Mall and the design process began. With a brief defined by classic comments such as - "High end grunge or just a bit above, but not a hotel"; "Retro New York, rock chic but not rock and roll"; and "It wants to be mysterious and a total immersion into another realm" – we set about designing the fitout of Brisbane's newest venue.
Beginning with the planning of the site, we established the principles of arrival, excitement, anticipation, and the main event.
The drum on Brunswick mall evoking 42nd street welcoming you, the deco lantern by Lux Box setting up excitement, the main bar glistening like a Glomesh bag adding anticipation and the then haloed main room punctuated with the chandeliers.
The idea of a halo to finish the main room was value added as the curtain rail and cornice, giving the hall meaning and purpose and drawing the mezzanine and hall together. Integrated curtains and lighting create mood and drama, terminating at the understated proscenium, to set the stage apart as the focal point of the room.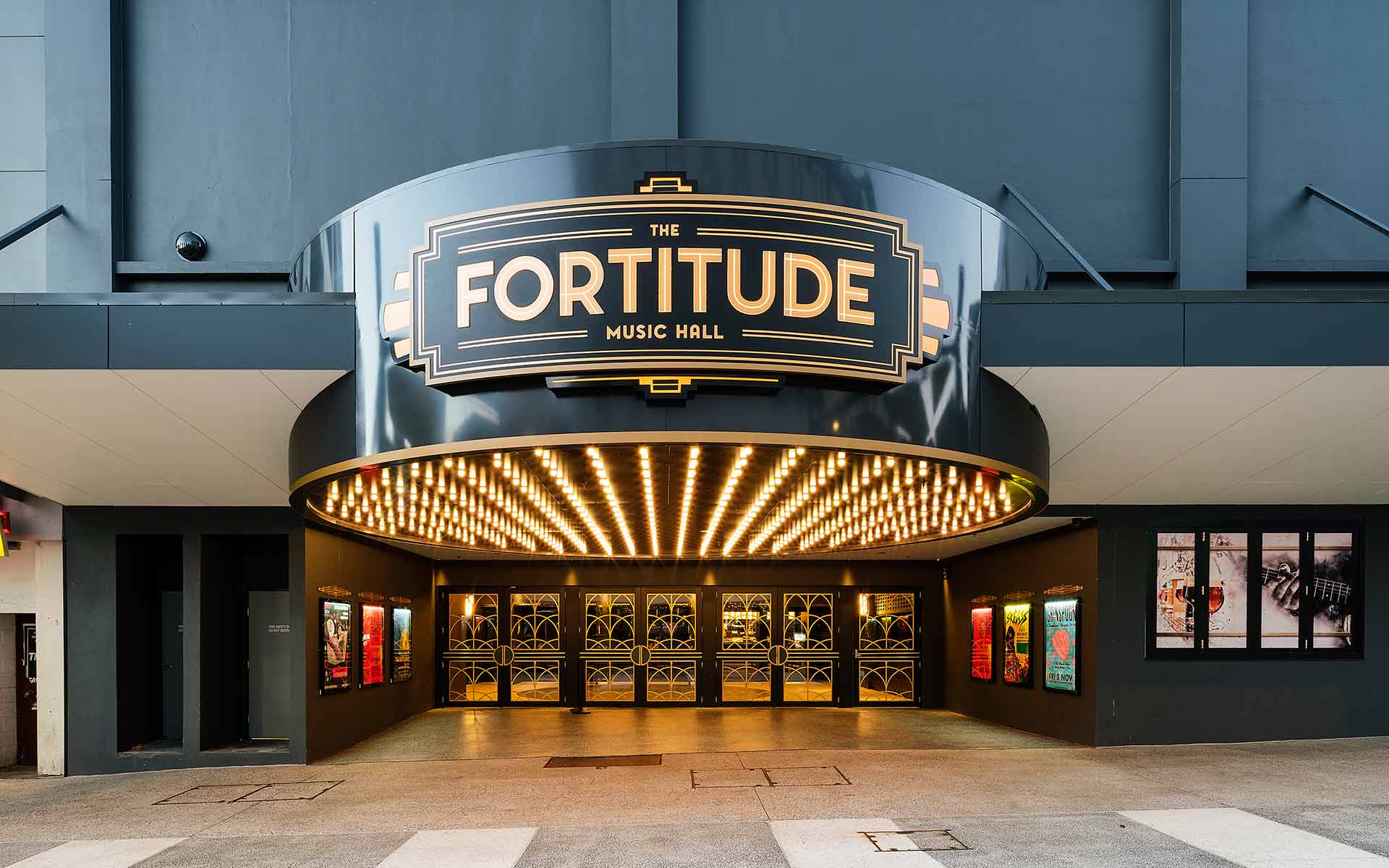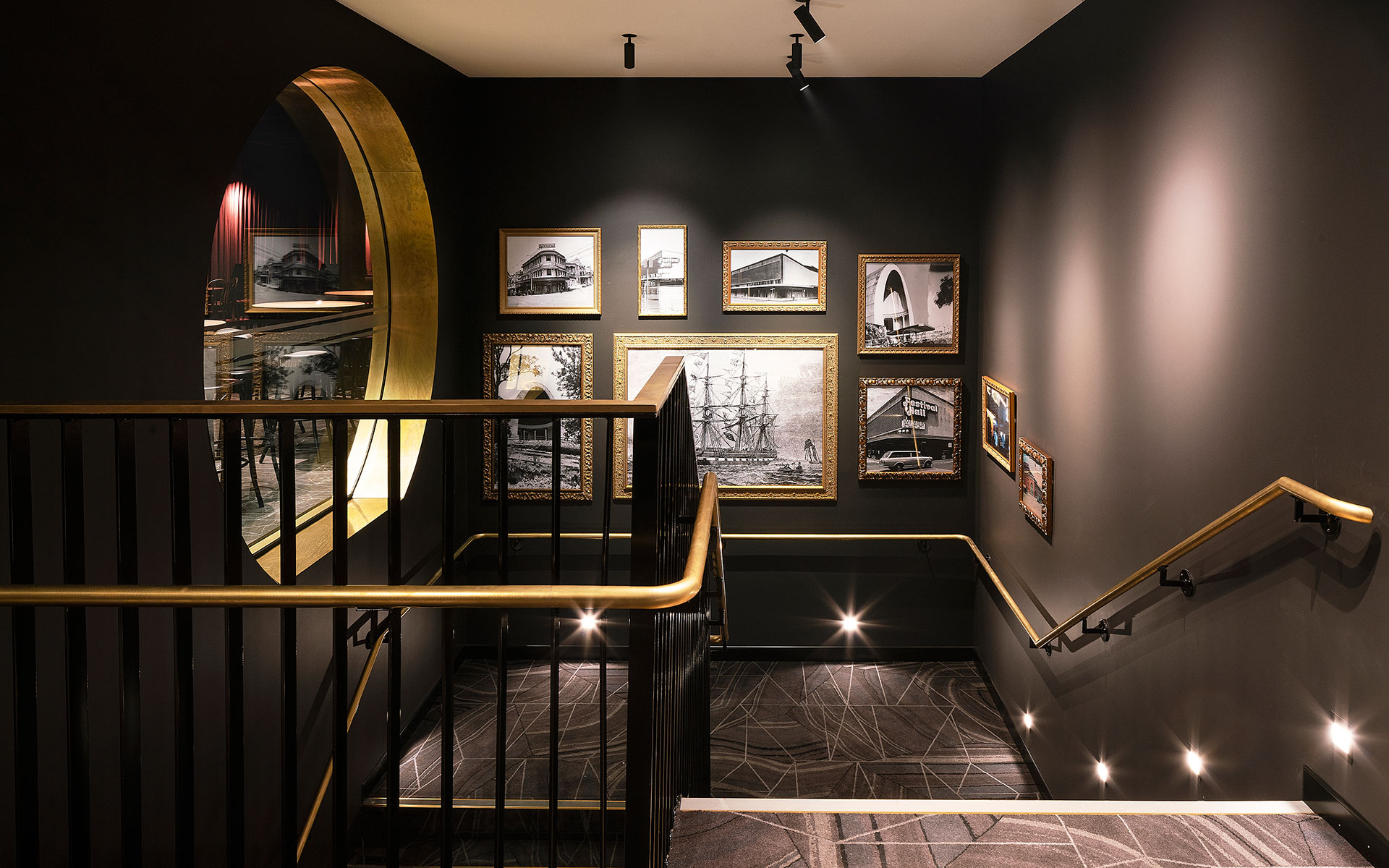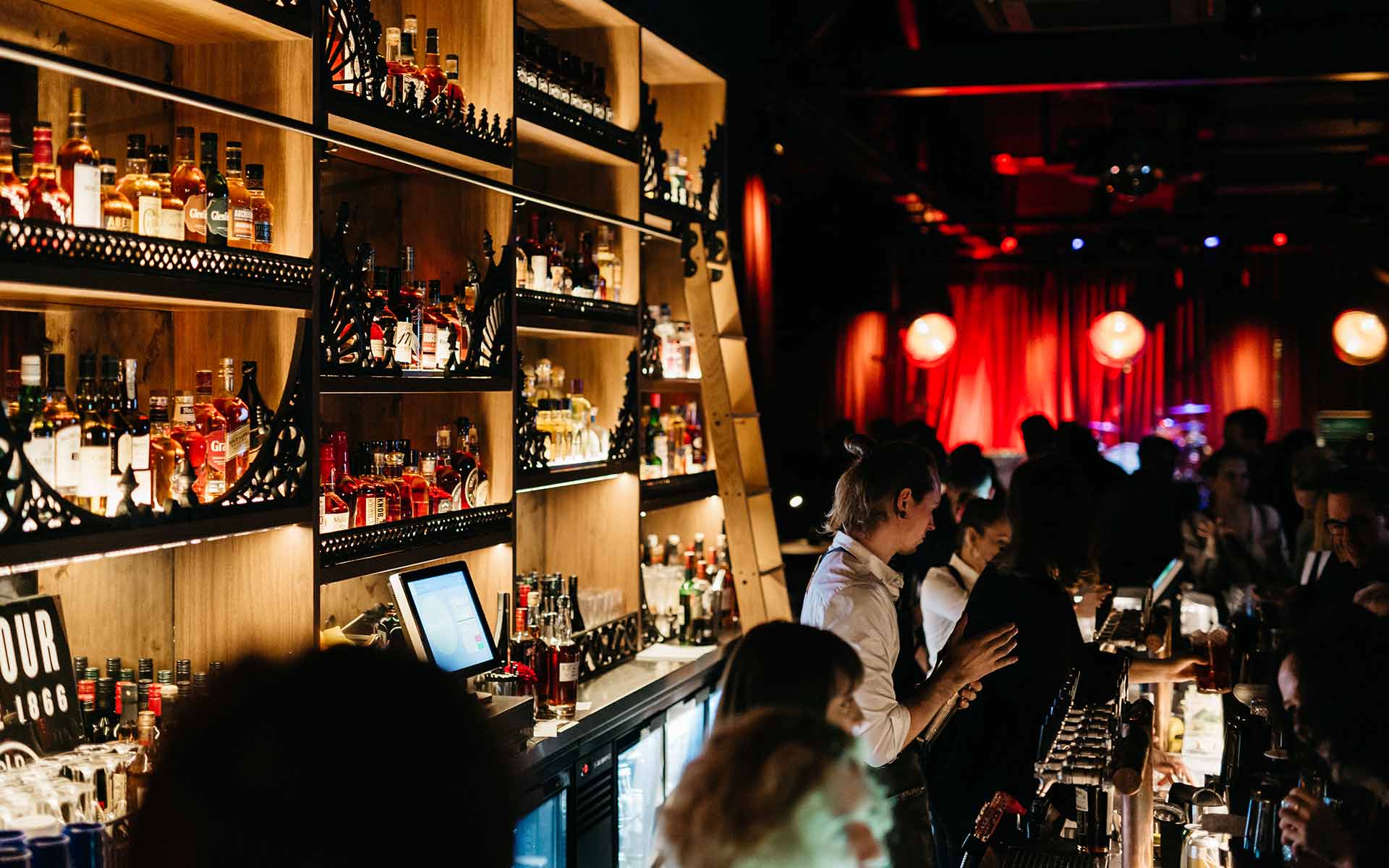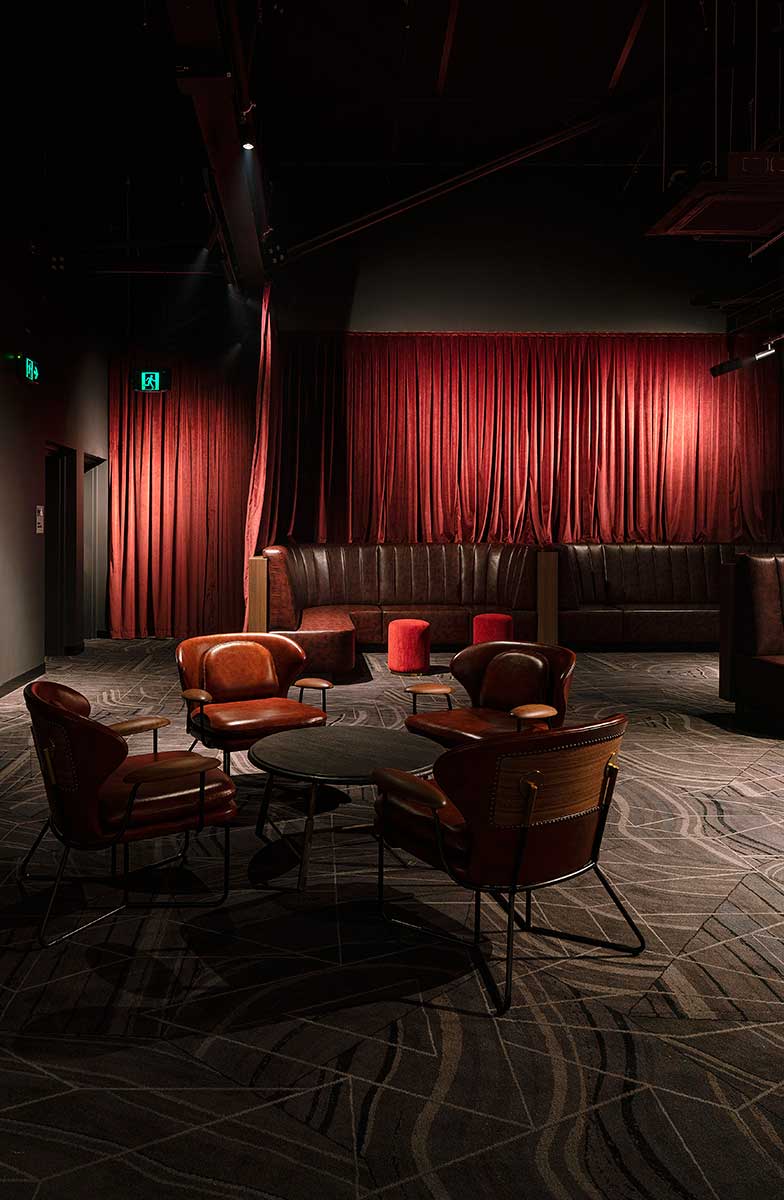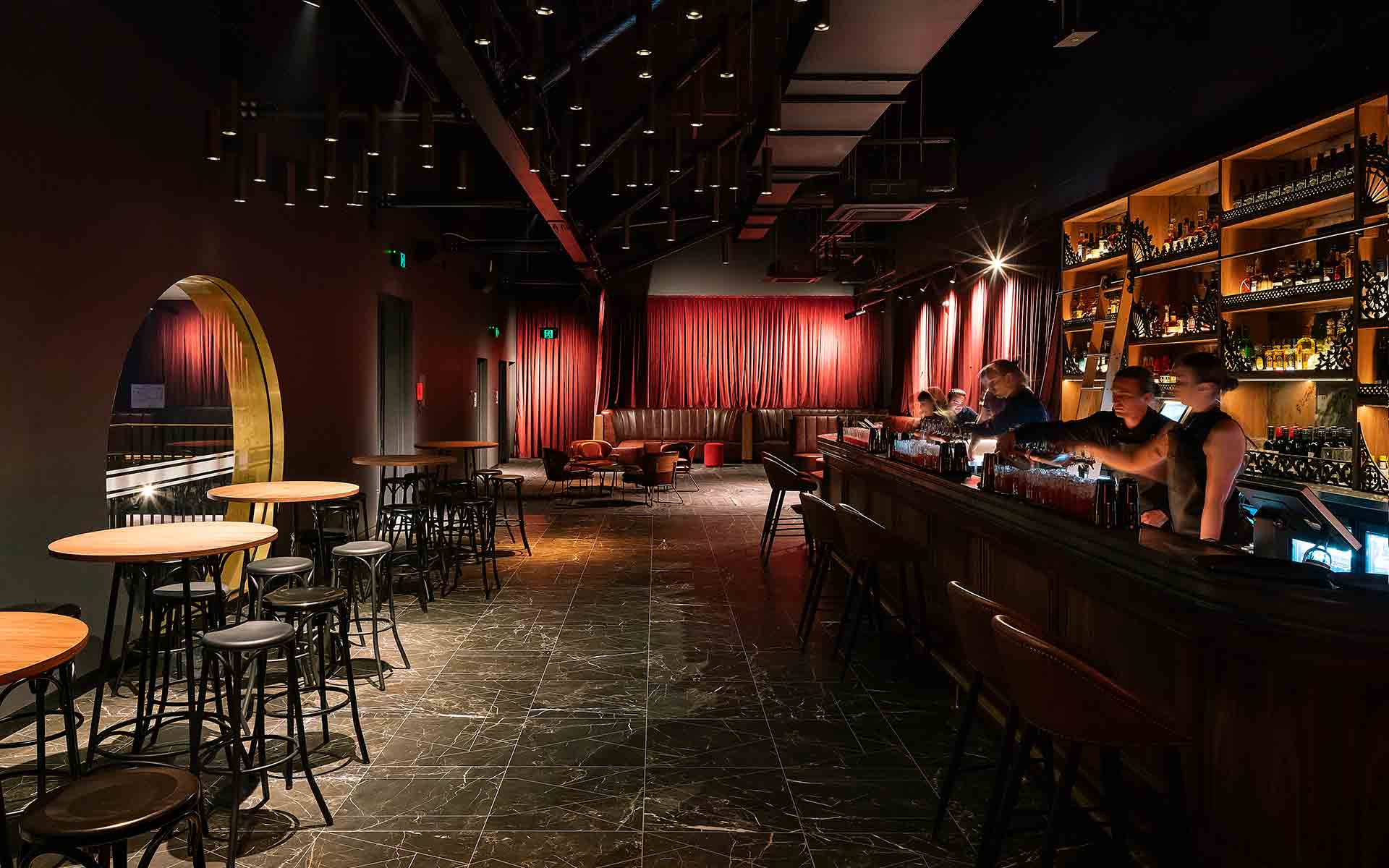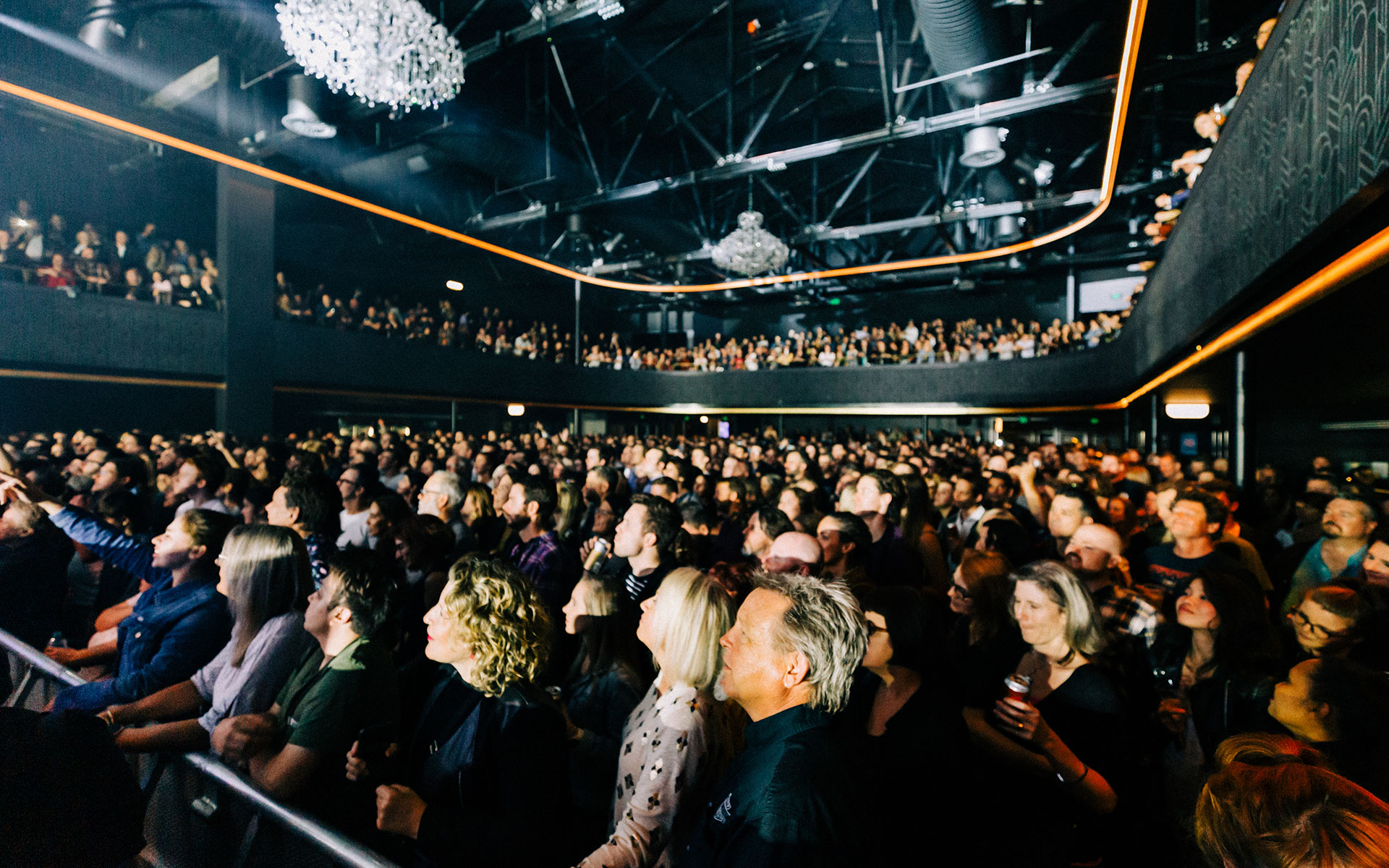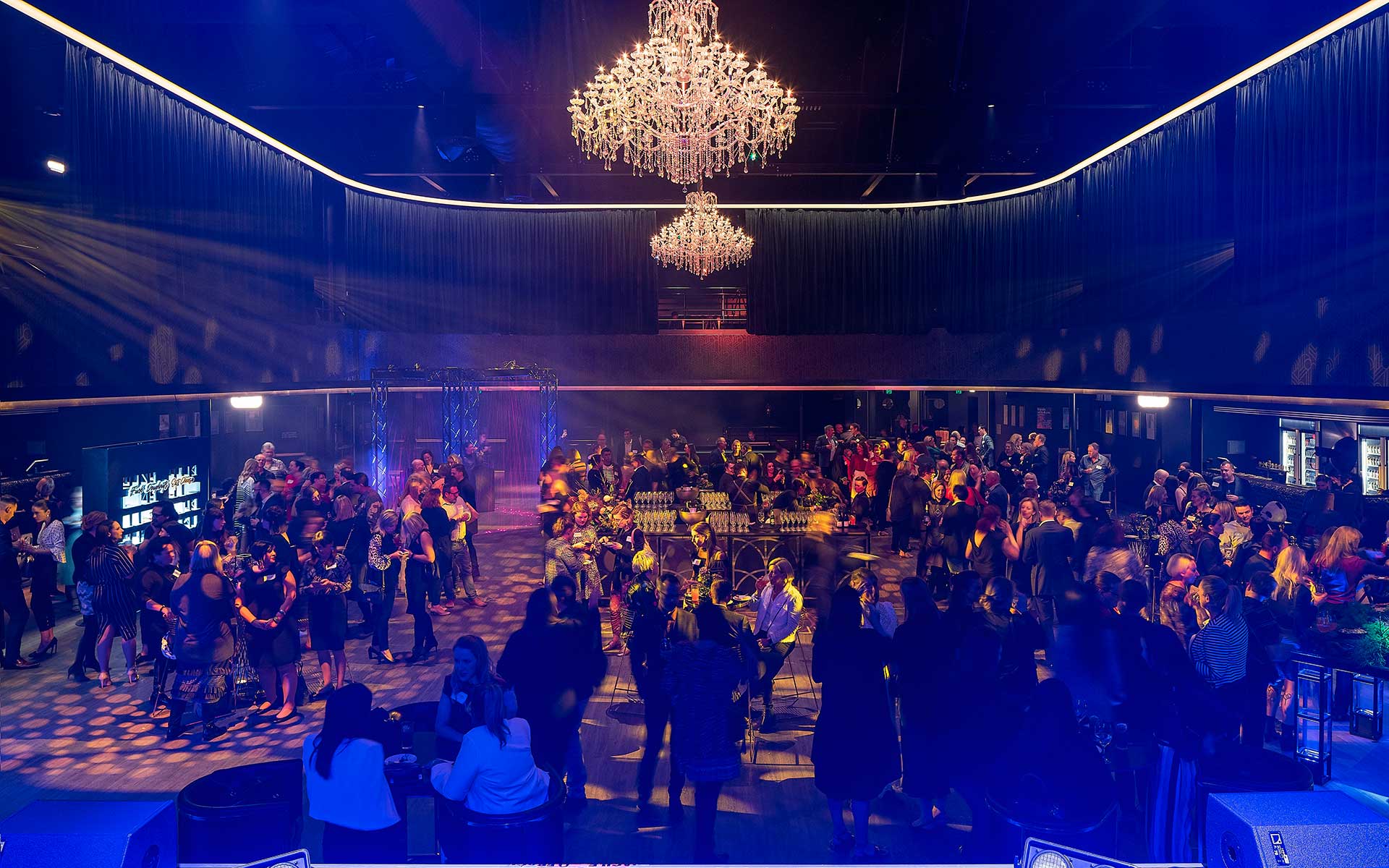 "It's got perfect sight lines, great sound and it's just a nice place to be. I was there for maybe the second-last gig at Festival Hall and I'm glad I was at the first one for the Fortitude."
Music writer Noel Mengel at the opening night of The Fortitude Music Hall.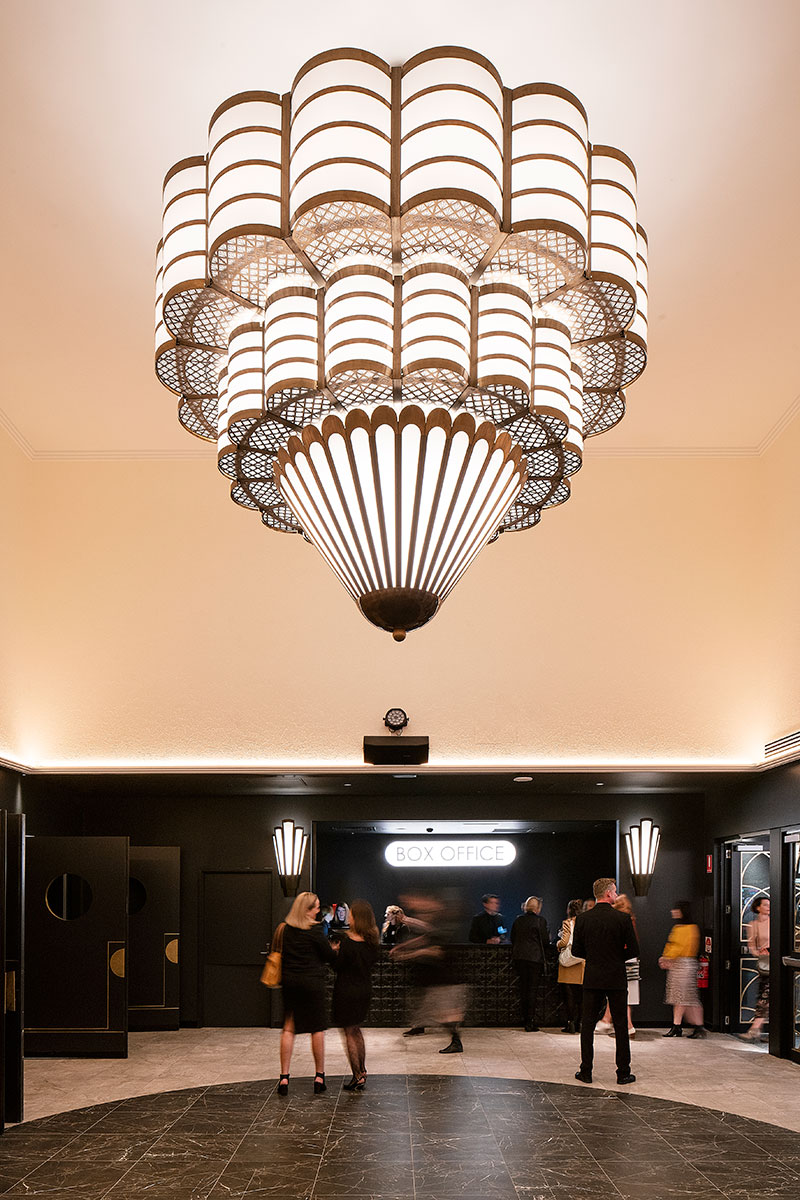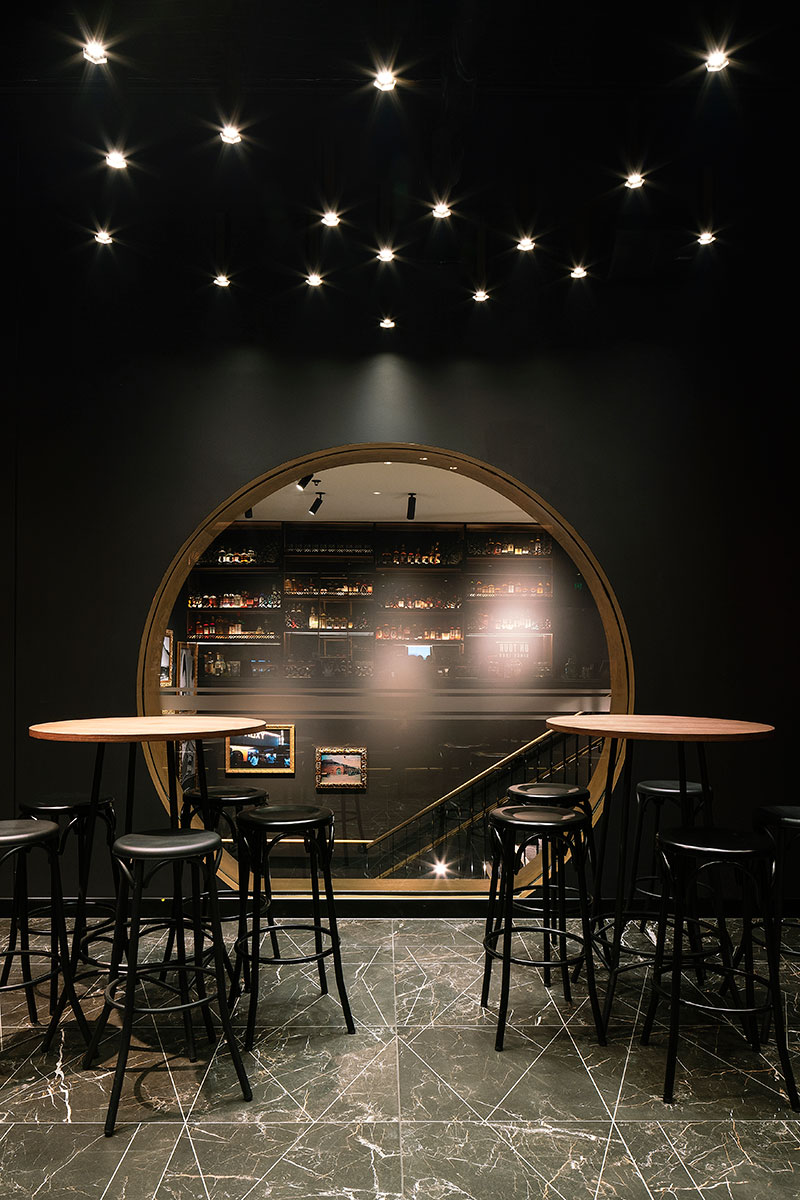 Aesthetically, inspiration came from gritty new deco – discovering the classic geometry and datum of the old art deco styles and pairing this back with minimalist materials. This was coupled with subtle decoration to create a fine balance between elegance and grunge.
Robust materials and repetitive lines were introduced within the bars with each possessing very unique identities. The main bar appears as a lantern from the entrance, drawing inspiration from the old art deco glass rod light fittings on a grand scale.
'The Outpost' bar presents a warm, inviting lounge bar designed for more intimate performance experiences, draped in rich red curtains and comfortable booths.
All in all this was a journey of discovery and translating between the music and construction worlds, driven by the belief that Brisbane needed this place to gather, play, celebrate and have fun.
"Complete with its 1930s New York black-and-white Cotton Club entry styling, standing room for 3500 punters, plenty of bars, a smaller upstairs stage called The Outpost and big square downstairs venue with two huge chandeliers, the Fortitude will become Brisbane's main larger music venue - 16 years after the demise of Festival Hall."
Tony Moore, The Sydney Morning Herald
| | |
| --- | --- |
| Client | Live Nation, Secret Sounds and John Collins |
| Contractor | Hutchinson Builders |
| Capacity | 3500 people |